ARISE Together in Christ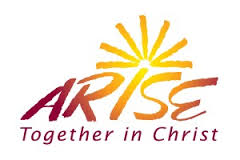 ARISE Together in Christ is a three-year, parish-centered process of spiritual renewal and evangelization that enables people to deepen their faith, develop a closer relationship with Christ, grow in community, and reach out in service to others. It emphasizes people living in good relationship with one another, as they make concrete applications of the gospel to their life situations.
In addition to the theme of the week being included in Mass, you are invited to participate in the ARISE process by joining a small group of people to meet weekly in informal settings to pray, share experiences and support one another. Meetings take place once a week for six weeks each in the spring and the fall. Please think about joining a small community group.
---
Did you miss sign up Sunday? Contact us with the form below for more information.
Sessions are scheduled for the following days:
Monday Mornings
Tuesday Evenings
Wednesday Evenings
Thursday Afternoons
Thursday Evenings
Friday Evenings
Sunday Afternoons
---
---
Top 10 reasons to participate in the ARISE Together in Christ process:

To know God better: We learn more about God, talk more freely about our faith, and hear how God has impacted other people's lives.
To grow spiritually: We see more clearly how the Holy Spirit has touched our lives and we become more willing to ask for the Spirit's guidance.
To meet new people: Praying and reading the Bible with others brings us closer. New relationships are formed and deepened.
To talk about God: Society and daily pressures offer little opportunity for us to pause and reflect on our spiritual life. Small communities provide the time and support for reflection.
To improve ourselves: Wherever we are in our relationships with Christ, there is always room for improvement. Being in a small community offers this opportunity.
To put faith into action: Baptism calls us to reach out to others and to help improve the quality of life for all. Small communities support outreach and assist us in finding ways to respond to others' needs.
To change the way we see the world: Small communities enable us to view the world and all in it with the eyes of Christ, which leads us to become more attuned to the needs and problems of others.
To improve relationships: Being in a small community infuses our relationships with more understanding, tolerance, patience, and love.
To experience different prayer styles: The Catholic Church has a rich variety of prayers methods. It is a gift to experience the many ways of communicating with God.
To be rejuvenated: By bringing daily worries, cares, and frustrations into an atmosphere of prayer, reflection, and faith sharing, we can bring new life to our everyday world.
---